Country: California, USA
Industry: Automotive Industry
Apps Implemented: CRM, Sales, Purchase, Inventory, Accounting, Invoicing, Manufacturing, Project, Studio, Expense,
Number of Users: 37 Users
Company Size: 50 Employees

What started as a spur-of-the-moment idea between friends who shared a passion for anything and everything on two wheels, quickly developed into a full-scale Original Equipment Manufacturer (OEM).

Odoo Takes it to the Next Level
Since the beginning of Alta Motors in 2010, the company has grown rapidly and become a leading electric motorcycle maker. It was an ambitious project, which initially was taken on by only four people, but four very dedicated people who believed in the product and its potential. It was a challenge to not only develop a new vehicle from scratch but also a host of new technologies to enable the vehicle.
As the company grew they felt the need to take the business to the next level, and therefore needed a system that could help manage its operations. They were managing hundreds and hundreds of POs, 500 different parts and two types of models, so they were in need of an active system that would constantly keep them updated about the operations, and let them know how much inventory is available, how the production is progressing, etc. As it's easy to accumulate millions of dollars in inventory, which equals wasted space and tied up cash, it was especially important for Alta Motors to have an active inventory system.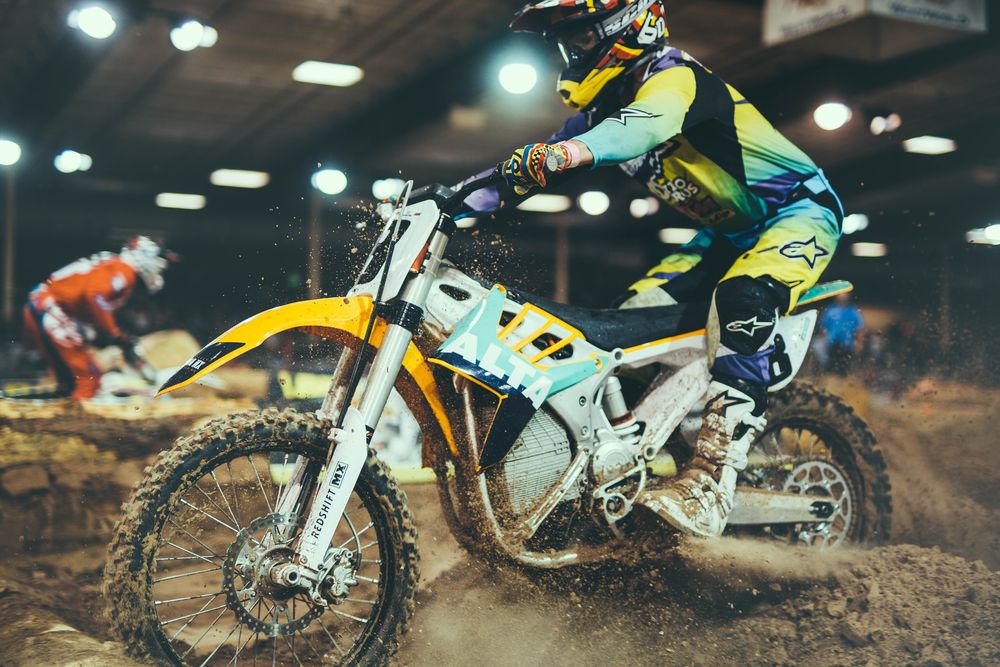 A Fully Functioning System in No Time
When it came to choosing an ERP system, two of the priorities Alta Motors focused on were time and the ability to handle complex products. They wanted to have a system that they could start using properly as quickly as possible, and Odoo was able to deliver. The company was impressed by how well Odoo meshed with their own philosophy of vertical integration, and how much control the system gave them. With Odoo not only could they control which functionalities they implemented, but they also had the ability to build exactly what they wanted on top of that. This allowed Alta Motors to maintain the flexibility and responsiveness that they value in every discipline that they have.
After implementing Odoo, one of the most amazing aspects for Alta Motors was that they were able to manage everything with a team of only two people responsible for the ERP and MRP. With a company of 50 people, a complex product and serving a nationwide dealer network, and eventually a worldwide network, this is very impressive. Alta Motors finds Odoo extremely intuitive, especially when it comes to taking the first step and setting up the basic ERP information within the system. Additionally, they found that it was very easy to train people in Odoo, and in just 3 months they were able to go from nothing to becoming almost completely functional in Odoo. They were pleasantly shocked to have a functioning ERP system in such a short time.

A System Built for the Future
Alta Motors is extremely happy to have a back-end software system that has a large library to draw from in terms of features and functionality, which allows them to not only build exactly what they need, but to only build what they need. Odoo allows them to shrink wrap the solution and avoid having all kinds of extra features that get in the way of their business processes, which is sometimes the case with more traditional solutions.
It was important to Alta Motors to start with a platform that not only served their current needs, but that would serve them as they introduced new products and expanded geographically from nationwide selling to worldwide selling. They chose Odoo because they wanted a system that could handle the transition through different growth phases and organizational changes. From what they have experienced so far, Alta Motors has every confidence that they'll be able to stay with Odoo and that Odoo will be able to stay and grow with them.
About Alta Motors
Alta Motors, established in 2010, designs and manufactures the most advanced electric motorcycles in the world. Their aim is not only to advance the field of motorcycle technology, but to also apply their technology and advanced engineering across transportation markets. In pursuit of this goal they've recruited an agile team of experts, developed innovative electric vehicle technology, and created a world class manufacturing operation headquartered in Brisbane, California.
Alta's design approach begins and ends with understanding what their customers want, need and value. Unlike a classic waterfall development program with handoffs from design to engineering to manufacturing, Alta takes a highly parallel and iterative approach, with design and engineering working hand in hand. Based on the intersection of product requirements, manufacturability, and bleeding edge of technology, their team puts pen to paper, beginning with sketches, volume studies and then 3D surface modeling.
More info on: https://www.altamotors.co