Country: Austria
Industry: Food Industry, Franchise
Apps Implemented: Inventory, Manufacturing, Sales, Point of Sale, Invoicing, Purchase
Integrating Partner: WT-IO-IT GmbH

Legumium is a small company in Austria specializing in the production of 100% vegan, food products. Martha Schreiber, the owner of the company, runs a small bistro where she offers her lovely homemade products, as well as a catering and delivery service, but her products can also be found in retail store chains. The idea was to be able to offer people healthy food that's completely free of artificial preservatives, artificial coloring, artificial aromas unhealthy fats and refined sugars. Legumium even provides vegan recipes online, and cooking classes, making being healthy and happy even easier.




Finding the Right Flow from the Get-Go
Since the start of the business, Legumium has been using Odoo as their management system. The implementation was done through an official Odoo partner in Austria, and an active contributor to Odoo, called We Trust in Open IT (WT-IO-IT). Before implementing Odoo, while searching for the right system, Legumium had some issues finding one that was a good fit for their workflow. Martha was set on having a sophisticated and modern ERP system that could deliver the functionalities she was looking for. She wanted everything to be perfectly organized right from the start so that the business would be ready to scale as soon as it was up and running. When Martha discovered Odoo through WT-IO-IT, she was satisfied with the solution and the flexibility it could bring to her business. Legumium is currently mostly using the following applications;
Odoo Inventory: Being in the food production business, and with Legumium's specific workflow, the company needed an efficient and accurate inventory solution to be certain which ingredients were in stock and in which exact quantity.

Odoo Manufacturing: For the food production itself, multiple Bills of Materials (BoM) were needed, and in this case they work similar to a complete recipe. The BoMs needed to flow well with the production process itself.

Odoo Sales and Invoicing: Were needed for the catering side of the business and recurrent sales to supermarkets. The launch cycle from testing to sales needed to be short, as it's important to constantly create new products and get them to the market in time. Therefore, the packaging and labeling also needed to be short and flexible, while still including maximum information for the customer.


Odoo Point of Sales (POS): Flexibility was needed in creating new products, as Legumium's menu varies, they have products made-to-order, and the company changes up its production selection. The POS was also required for the bistro and the B2B delivery service.

The launch cycle from R&D and testing of the product, to sales needed to be short, as new products were constantly being created and it's important to get them to the market in time. Therefore, the packaging and labeling also needs to be short and flexible, but also include maximum information for the customer.

A Healthy Business Process
Legumium sells two types of products; ready-made products which are sold pre-packaged, as well as products made-to-order. As all of Legumium's products are made fresh and are completely void of artificial additives, it's very important to be able to carefully track all products, down to the smallest ingredients, throughout the production process and ensure their quality.
With Odoo Manufacturing and Inventory, the specific workflow required could be delivered, and it was easily possible to follow the state of all ingredients.
The recipes are all located in Odoo Manufacturing, and it's easy to see whether all necessary ingredients are available, and how much is needed for a certain desired quantity of the final product. The system also takes into consideration the cost of each quantity of ingredient and automatically calculates the material input cost.
Some customizations were added for Odoo Manufacturing, specifically to be able to include the nutritional information calculated based on the BoM. This can then be printed on the label for the products.
With the integration between Odoo POS and Odoo Inventory, all transactions are automatically registered with the inventory.
Legumium is a small business that's been around since 2013, but in that time the company has impressively produced 530 BoMs with 1120 products. Until now Legumium has mainly been selling its products in their own store/bistro and to companies and organizations via their catering service. They've experimented with selling ready-made meals in supermarkets and in the future they might explore that market further.
Introducing Legumium (in German)

Legumium is located in Wiener Neudorf, about 15 minutes south of Vienna. The owner and CEO, Martha Schreiber, dreamt of offering people good, healthy food that's completely free of artificial preservatives, artificial additives for color and aroma, unhealthy fats and refined sugars. Legumium is ideal for health-conscious and environmentally friendly people. The bistro itself is small and cozy, and also serves as a store for take-away and delivery orders. They offer a varied seasonal "office lunch" including soups, salad, main dishes, and desserts, packed in glass jars for take away. Other dishes include wraps, gluten-free burgers, sandwiches, and small pastries. Their speciality however is LeguMMus, which is a vegetable mousse based on hummus, made out of legumes, leafy greens, root vegetables and herbs and spices. Legumium is environmentally friendly, using organic and regional ingredients, with their products being sold in reusable glass jars, and the electricity in the bistro is produced by solar panels on the roof.
The founder and CEO of Legumium, Martha Schreiber, has always been a food enthusiast with a strong interest in good healthy living, which is clearly reflected in Legumium's values, quality and of course the food.
More info on http://www.legumium.com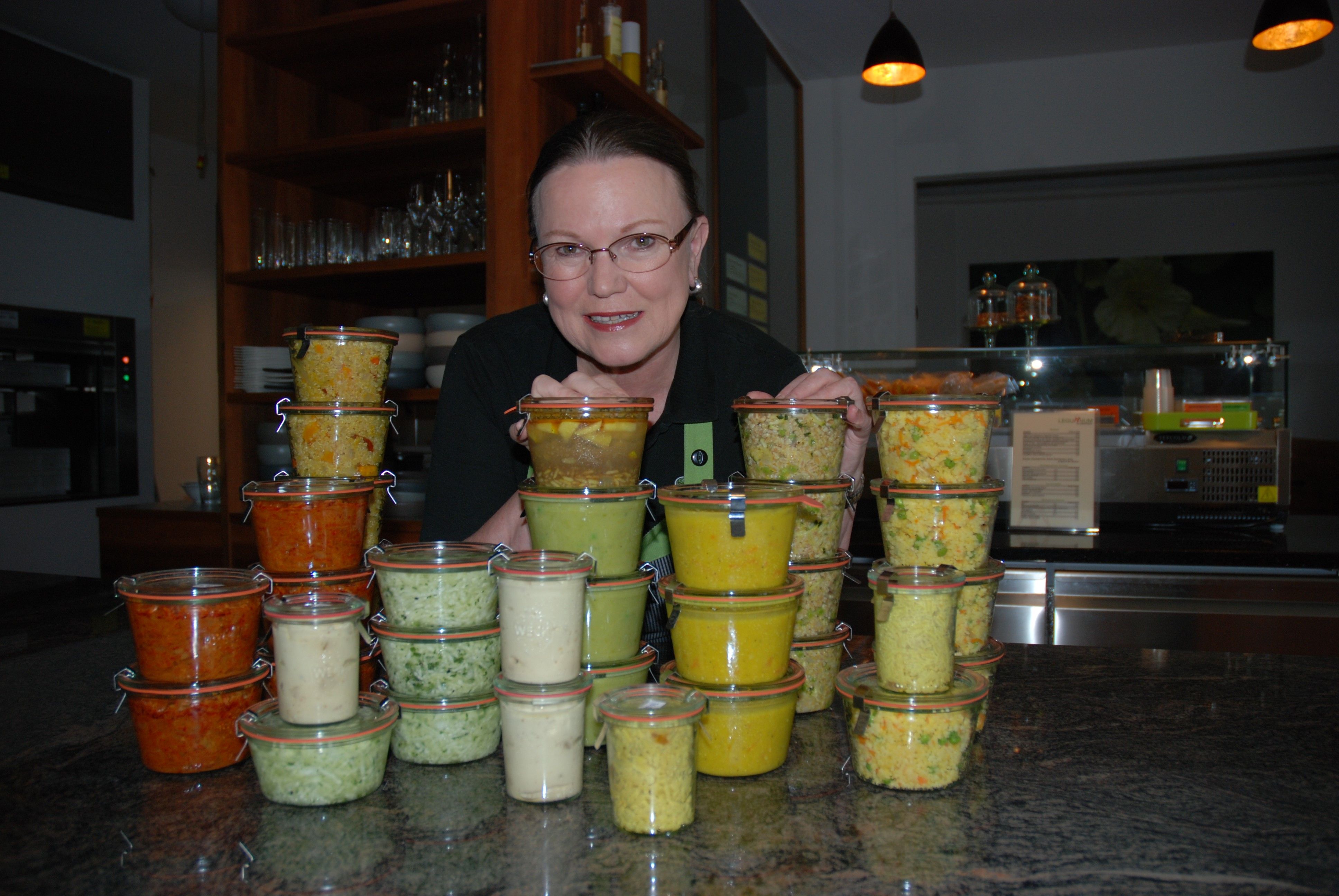 About WT-IO-IT - An Odoo Partner
The mission of We Trust in Open IT, or WT-IO-IT, is to simplify business integration and operational planning with IT solutions, and above all, to preserve flexibility and mobility without being dependent on proprietary software solutions for its customers. Their solutions are built on the efforts of many ambitious and experienced contributors from all over the world. That combined with their use of generic and modular approaches, and their overall know-how, is worth its weight in gold.
The people of WT-IO-IT love what they do and they're always happy to help. They have the necessary professionalism and perfectionism to shape your project into a real success story. Process optimization and flexible mapping of your business processes are WT-IO-ITs strengths, and subsequently an added value for your company.